In his article "Digital Business is Everyone's Business," Jorge Lopez,
Gartner Inc
., said "By 2020, more than seven billion people and businesses, and at least 30 billion devices, will be connected to the Internet. With people, businesses and things communicating, transacting, and even negotiating with each other; a new world comes into being—the world of digital business."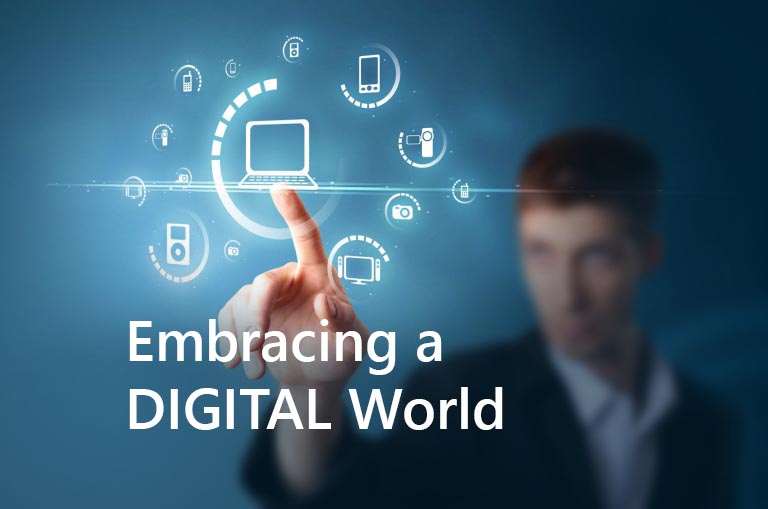 Digital transformation is the modernization of your business, processes, activities, and competencies that give you a competitive edge and transforms your business ecosystem.  Digital technologies has impacted all aspects of our lives from automated personal assistants like Apple's Siri and Amazon's Alexa, to smart refrigerators, Bank of America's Live tellers on video at ATMs, and autonomous cars. Digitization is a major disruptor for many industries, the most notable being retail with online shopping, and the hospitality industry with Air BnB, discount websites like Orbitz, lastminute.com etc. where potential guests can book airline tickets, vacations and hotels for a fraction of what they paid in the past. Last year, when Google launched its insurance product, Google Compare, it sent a ripple of fear through the insurance industry, resulting in more insurers paying attention to upgrading their technology.
For businesses to survive in this continuously evolving digital environment, they must understand that their transformation must be enterprise-wide. It should encompass front and back end processes as well as company culture. In the article, "The Making of a Digital Insurer," McKinsey & Company listed six areas insurers need to consider to succeed in this digital era:
Digital analytics and decision making: data from internal and external sources gathered in real time for actionable insights
Strategy: digital strategies adapt to rapid industry change while supporting overall business aspirations.
Customer-centricity: Digital tools improve the customer experience at every step in the decision journey, and beyond
Digitize business processes: Processes are reimagined from a zero base, reducing costs and errors and boosting customer satisfaction
Organize for digital: The corporate culture approach to talent and organizational model all support digital excellence
Technology: Two-speed IT allows for rapid digital development and ensures transactional systems are safely maintained
For example, in the insurance industry, many insurers are focusing their digital transformation strategies on their front-end processes to improve customer experience across all interaction channels. In this digital age, the adage "The Customer is King" has become a reality.
Access to tremendous amounts of information through the Internet has resulted in smart, well-informed consumers/shoppers who have become powerful by sharing information on social media. This is a major disruptor for all industries, as customer reviews can make or break a product. For insurance carriers, the ability to onboard producers quickly (in a matter of hours), giving producers access to their book of business and demographic information using a self-service portal is a must. Processing producer compensation correctly and in a timely manner is a must. Managing the producer lifecycle seamlessly is a must.
To survive in this new business environment, businesses must digitize their processes: that's the only way to ensure that the brightest and best producers will work for them. Again, I will use the insurance industry as an example. For insurance distributors, digitizing revenue reconciliation, gamification, compensation, etc. is also a must. To win new business, producers are using digital technologies to gather information, find competing products, talk to their employers, and to talk to their customers. This means each enterprise must enhance their customer experiences with agility, smart decisions, innovations, and digital technology to empower their producers. Many industry professionals are saying digital transformation is the future, but digital transformation is now! Just look around you.